The year 2021 already had quite a few highlights regarding blockchain, but the blockchain area and community in Berlin have even more coming up in the next months. Who else could provide us with insights but Berlin Partner's blockchain innovation managers Sascha Dobratz and Shoshana Schnippenkoetter and Berchain's association manager Stefania Artusi. They tell us all about their current projects, why Berlin is and will keep on being THE blockchain location in Germany and which events and new stories the future holds. Shoshana also reports on the plans to increasingly integrate blockchain in the Berlin administration.
Hello Sascha, hello Stefania. Please start by introducing yourselves first. What exactly are your positions at Berlin Partner and BerChain? How do you work together?
Sascha: I'm the innovation manager for blockchain at Berlin Partner. My job is to connect different players, build networks and consortia and transfer knowledge from research institutions and the community to companies and authorities. BerChain as the community leader is one of our closest partners, especially when it comes to events and networks.
Stefania: I'm covering the role of association manager at BerChain e.V. With Sascha, we are collaborating on aligning BerChain and Berlin Partner's goals to co-host panels, workshops and webinars related to blockchain and innovative tech, promoting the Berlin blockchain and start-up ecosystem. With Berlin Partner, we are in a continuous exchange of knowledge, supporting each other's initiatives; as BerChain we participated in a couple of their workshops on Blockchain for Public Administration.
Hi Shoshana, what is the status quo regarding the integration of blockchain in the Berlin administration? Which blockchain-based approaches are already being implemented or planned?
Shoshana: In view of the still very young technology, the Berlin administration recognised the potential of blockchain for the digitalisation of public administration very early on. For the implementation of a blockchain application in the public sector, it requires an intensive dialogue between very different worlds. State Secretary Rickerts (Senate Department for Economics, Energy and Public Enterprises) personally took part in one of Berlin Partner's first workshops. Representatives from administration, science, business and the blockchain community have already identified blockchain use cases for the Berlin administration in 2019. This laid the foundation for the necessary exchange. Together with our partners, such as Berchain and City Lab, further events followed. Potential use cases were concretised, challenges discussed and solutions developed with the administration and the blockchain community.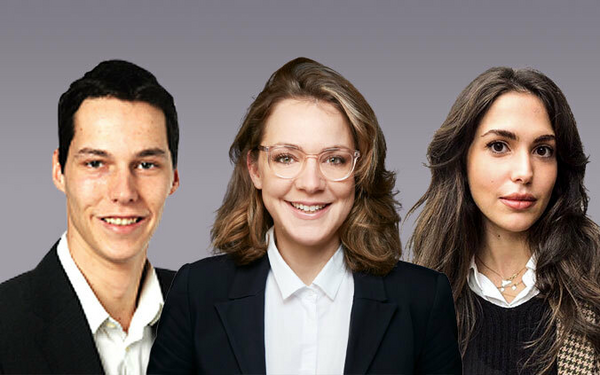 And what did this result in for the city of Berlin?
Shoshana: Today, the state and city of Berlin are represented in the central political bodies, such as the Blockchain Coordination Project of the It-Planungsrat. Berlin Partner and the Senate Department for Economics let Berlin's perspectives flow into the process. The state-owned IT Service Centre has been a member of govdigital since 2020. This is a major milestone. Because the members of the cooperative operate the nodes of a blockchain for applications in the administration. This means that the necessary infrastructure is already in place.
Of 52 projects in the federal and state governments, 31 are currently in the planning phase throughout Germany.
Source: Bearing Point
Berlin is increasingly becoming the German blockchain stronghold. What makes the capital THE perfect location for blockchain developments?
Stefania: Firstly, I think Berlin is building on its rebellious, libertarian roots which have always characterized its spirit, matching perfectly with the revolutionary ideals behind blockchain technology. This also helped to establish a very open to collaboration and less prone to speculation, diverse ecosystem making this community thriving and active. Berlin attracts tech talents, which make it easier for companies to land great hirings. Last but not least, Berlin features a great established start-up infrastructure with access to investors, accelerators and co-working spaces which significantly facilitates setting up and funding a company in Berlin.
Sascha: Berlin has one of the largest blockchain and Ethereum communities in the world and an incomparably vibrant ecosystem. That's why Berlin is also home to the knowledge and talent, and thus the start-ups and many important players in the blockchain ecosystem.
Is blockchain already being used in citizen services? How do Berlin's citizens already benefit from the use of Blockchain?
Shoshana: Blockchain has great potential to digitalise, simplify and speed up administrative services for citizens. Above all, the blockchain allows data sovereignty to remain with citizens and their data to be tamper-proof, transparent and less vulnerable to cyber-attacks.
In practical application, examples range from vehicle registration to asylum processes, which are made transparent and tamper-proof by the blockchain. Berlin is one of the first states to put a pilot project into practice. The digital issuing of school certificates is already in the test phase in the capital. Supported by the Senate Department for Economics and the Senate Department for Education, the Bundesdruckerei and the IT Service Centre, the first digital school reports are to be issued as PDFs using the blockchain solution as early as 2022. Up to now, school reports have only been issued in paper form. Anyone who has applied for a job knows how time-consuming it is to have them certified, scanned and sent. The loss is associated with a high bureaucratic effort. With blockchain technology, manipulation is impossible and the authenticity of the document is traceable.
In Berlin, there are already considerations about issuing further offers, such as student ID cards or student tickets digitally with the help of the blockchain. Now it is time to gather practical experience in order to further mature the technology and integrate solutions into public authorities in the long term.
In addition to the many opportunities for blockchain in Berlin, are there also some challenges that need to be overcome? Where do you see these challenges and what are the chances and opportunities?
Sascha: For Berlin, the challenge will be to sustain and expand an environment that allows the community to grow further.
The decisive factor, however, is the legislation, especially with regard to regulation and taxes. Many countries offer tax breaks for start-ups, such as Estonia. Others specifically promote blockchain and cryptocurrencies, such as Malta or Switzerland. Berlin has been proving for years how to specifically promote this start-up ecosystem and was therefore able to reclaim the title of start-up capital of Europe. It is only because of this lively and diverse ecosystem that Berlin can score points in international comparisons.
Stefania: Germany clearly showed its wish to pioneer in digital transformation, releasing its Federal Governmental Blockchain Strategy which sets the mood on what will be the future and the adoption of this technology for this country. Also, Berlin is overall a socially engaged city which creates the chance for the local tech scene to play a concrete role in solving social and sustainability challenges; as a positive result, now many real-impact blockchain projects are releasing pilots to produce a change in the city and beyond. In terms of challenges, still a lot of work needs to be done for the strict regulations of crypto assets.
Also, an important and often overlooked struggle is represented by gender equality in the industry. As a woman in tech, while it's worth mentioning that Germany has a better average percentage of female tech workers than other country in Europe (except UK), there are still not enough female tech workers in deep-tech and fintech fields.
►Decentralized Finance
► Non-Fungible-Tokens
► Self Souvereign Identity
► Blockchain...
... in the energy sector
... in the creative industry
... in the gaming industry
Which trends do you observe in the field of the blockchain technology? What will be the "next big thing"?
Sascha: In 2021, Decentralised Finance, Non-Fungible Tokens (NFT) and Self Souvereign Identity will be the most promising use cases from a technology perspective. However, we will soon see more use cases in the areas of Internet of Things and Artificial Intelligence.
Stefania: Overall, this pandemic accelerated the digital transformation drive in many areas. Next to that, this global health crisis and the climate change threat have caused more realistic and pragmatic approaches to blockchain initiatives. Now many industries are intensively looking at Blockchain as a helpful tool to enhance their processes. Industries such as Supply Chain, Health, Energy, IoT or AI suggest that cross-technology blockchain solutions are on the rise. We've also experienced the diminishing use of cash, which might indicate the number of CBDC projects will accelerate, too. On the other hand, DeFI will keep on growing, keep on moving towards its first steps and showing the potential to be an important part of the future global economy. Various DeFi solutions, such as stable tokens, decentralized exchanges, decentralized lending, represent new opportunities to retail investors and the general public. But I think we will have a concrete impact of DeFi once Web3 will be mass-adopted.
Blockchain has found its way into many areas and is increasingly mentioned in the same breath as IoT or artificial intelligence. What do you think the rest of 2021 will bring here; in which areas will blockchain also unfold?
Sascha: Blockchain in the energy sector will certainly reveal exciting potentials in the near future. But the creative and gaming industries will also be transformed by the new possibilities offered by NFTs. In public administration and companies alike, Self Souvereign Identity will cause a stir, as identity management and data security are an issue in many different sectors and industries.
Stefania: As Sascha already mentioned, we'll see an increasing convergence of cross-tech solutions and new business models allowed by the intersections of blockchain and IoT, AI. Hence to the nature of blockchain technology, we'll probably see Data Management and Automatization of Business as promising results of this convergence.
BerChain and Berlin Partner have already jointly realized the Blockchain-in-use conference as hybrid event at the end of 2020. What are the plans for this year? What events can the blockchain community look forward to?
Sascha: The Blockchain-in-use conference will definitely become bigger and more international in 2021. But we also have events planned on DeFi, NFT and SSI. The first event was "Blockchain in the energy sector" in June. For more detailed information on upcoming events, I recommend the websites of Berlin Partner and BerChain and of course our newsletter!
Stefania: Both BerChain and Berlin Partner are looking to open up a dialogue on a European and international level, supporting institutions and practitioners to keep up on a high-profile, collaborative conversation to have a real impact on the practice and adoption on this technology. This year, both of us are interested to explore the future of blockchain together with AI and other cutting edge tech, sustainability-focused Industries and European collaborations. So, stay tuned for events touching these new synergies and more!