"The good news is, women are founding more start-ups than in previous years" - Lisa Paus, Federal Minister for Family Affairs, Senior Citizens, Women and Youth, summarizes the result of the "Female Founders Monitor 2022". At 20 percent, the proportion has indeed increased compared to the previous year. However, this also means that 80 percent of all startups in Germany are still founded by men. The scene is similar in the Web3.
For example, the field of cryptocurrencies has been male-dominated since the beginning. According to the Pew Research Center, only 17 percent of U.S. women in the 18- to 29-year-old age group have invested in, traded or used a cryptocurrency - compared to 42 percent of men in the same age group. Less than five percent of crypto entrepreneurs are female, and among the top 121 crypto companies in the world, only five have a woman at the helm - alongside a male co-founder.
No queue at the women's restrooms
"Blockchain conferences are the only events where there are no lines at the women's restrooms.", says Ada Jonušė, founder of the Blockchain Centre, strikingly when it comes to gender distribution. "I saw a photo from an event that only offered men's toilets." The experienced entrepreneur, who launched her first blockchain startup Lympo back in 2017 and later sold it to Web3 giant Animoca Brands, knows several reasons for this. "Many women choose other careers. Sometimes blockchain is portrayed as something very technical and complicated," the political science graduate sees a global phenomenon. "Beyond that, there is still a lot of sexism in some crypto circles. Just this summer, I wrote an email to a blockchain CEO, who I actually really like and respect, saying that organizing a party with female dancers with rabbit ears as part of a conference is not in the spirit of Web3, in my opinion. How would I explain that to my younger female colleagues? It looks like an old movie."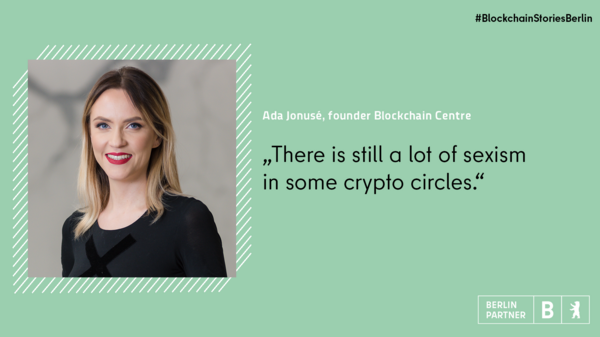 Moreover, in the early days, blockchain users came mainly from the IT and finance sectors, both areas in which women would be underrepresented. But, "A lot is changing there," adds the self-proclaimed "Women empowerment agent" who launched W@, a network for women in the workforce, "especially with new creative products and technologies like digital art, NFTs, applications in the metaverse." She also notices the growing interest in the increasing female customers of her newest baby, the Blockchain Centre, with bases in Australia, Asia, the Lithuanian capital Vilnius and Berlin. "It's a hub of some of the best experts in tokenization and NFTs (non-fungible tokens) who want to do something in the Web3 space: new products, new ways of engaging and rewarding users, new technological possibilities," says the Berlin-by-choice describes the project in which she passes on her know-how to founders and entrepreneurs.
With blockchain to transparent supply chains
Like Jonušė, Elena Mechik has also gained a lot of knowledge in the blockchain sector over the past five years and has witnessed many hypes. "I got to know blockchain technology through research on cryptocurrencies," she says of her beginnings in 2017. "At the time, I was doing a PhD at the University of Hamburg on the protection of tropical forests and ways to minimize illegal deforestation. Using blockchain technology, I saw the potential to create a transparent supply chain that could make the illegal timber trade virtually impossible."
However, she quickly realized that the market was not yet ready for total transparency. "However banal it sounds, you can't talk about supply chain transparency and transparency in the execution of contractual obligations until most companies have a proper clear contract management solution in place," she realized, and came up with a solution with her startup INHUBBER: "Our software is technically structured in such a way that, together with companies, we can take the step toward complete transparency in contract execution," says the founder, explaining the concept, which started as a research project at Humboldt University Berlin and has since found its home there due to the attractiveness of the German capital for employees. "Our blockchain-based electronic signature enables our customers to sign all file formats." That goes for an Excel spreadsheet as well as a zip or a video. "Due to the highly encrypted and unchangeable storage option for contracts, our customers can completely do without paper storage and also save a lot of trees directly with the help of the INHUBBER platform," Mechik, who is now responsible for sales, closes the circle to the beginnings.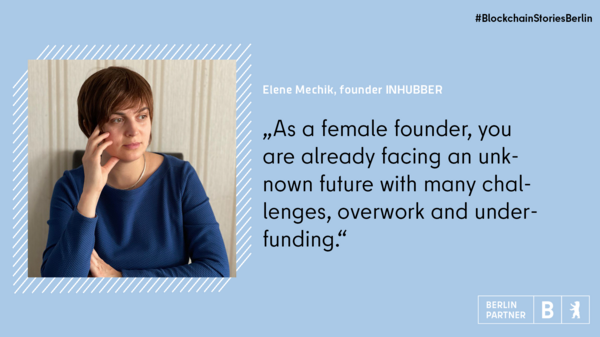 Encouraging early interest in technology
She admits that the road to this point was not easy for her as a woman and mother: "As a female founder, you are already facing an unknown future with many challenges, overwork and underfunding," she knows the fears only too well. "I would be happy if female managing directors could get more parental benefits, for example. That would encourage more women to take leadership positions. It would be a dream if there were flexible childcare facilities or child-friendly coworking networks to support the dynamic lives of female entrepreneurs. I would also like to see tax breaks for innovation-driven companies with a certain percentage of women in leadership, research and engineering positions."
In addition, she believes it would be important to already motivate girls to take an interest in technologies such as AI and blockchain. After all, "as with any innovation, those who understand, use and improve it will benefit more from its economic potential," Mechik is convinced.
Equality on the Web3
With the opinion that blockchain can make society more egalitarian as well as reduce social injustice, Mechik falls on open ears with Nicola Mizon of Vizta DGTL: "Blockchain levels the playing field and removes old barriers that have hindered the fair exchange of ideas, creation, property and rewards, but also the distribution of power," the gamer and collector of vintage fashion is certain. The core product of Vizta DGTL, "Kutur Runway", is about this equality: "It's a fashion competition where players compete against each other to become the most famous fashion designer, influencer, or fashion personality in the digital world," she explains the principle.
"Basically, it's a Web2 mode game with Web3 features. In our hybrid system, we allow players to compete with simple in-game assets or with NFTs. We present players with decision moments, in which they can switch from a Web2 user to a Web3 user."
Financing challenge
The fact that brands are now exchanging ideas with new target groups at eye level on Kutur Runway didn't happen overnight: funding was a challenge for Mizon and her team. Lacking funding programs, they turned to traditional venture capital parties in their network. "After sending more than 200 idea pitch emails to different VCs and not getting any responses, I'm happy to say that I'm lucky to have had a well-connected co-founder, without whose connections we definitely wouldn't have been successful," the entrepreneur admits, wishing for "more events to connect founders with the right kind of investors."
The Female Founders Monitor 2022 also confirmed that access to angel investors is a hurdle for female teams. "I was even told once by a fund manager that the reason they didn't have any female founders in their portfolio was because no women were applying for it," Ana Valdes, COO at "Vaultoro" and co-founder of the stable coin "TheStandard" describes an example from practice. "This is obviously a simplification and certainly not the sole reason. But I think this comment does a good job of showing that sometimes women don't have access to finance or are uncomfortable accessing the funds that are available." The fact that many women are deterred from finance and investing is also reflected in cryptocurrencies. "Some studies have found that men tend to be more venturesome when it comes to cryptocurrencies, while women tend to be more risk-averse," knows Valdes, who has been studying the issue since 2015. Traditional financial behavior is also evident in Vaultoro, she says, which is an investment product that allows people to secure their savings and crypto profits. "Vaultoro's vision is to digitize the world's assets and make them transparently accessible to all. It offers a cryptocurrency and precious metals exchange with insured, verified gold and silver stored in a Swiss high-security vault," explains the employee from the very beginning. So far, 90 percent of the service is used by men. "We are currently working on developing new products where we are bringing more and more women to our customer interviews to make sure we get feedback from women so we can tailor our offering and appeal to them more," Valdes says that should change.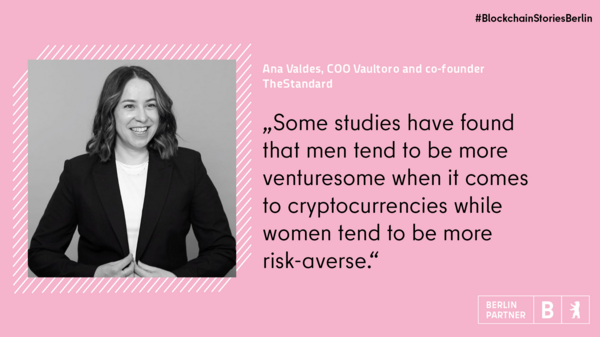 Using Bitcoin to pass the tax advisor exam
Afra Stöhr has never thought about the gender distribution of her clients. "I estimate that 95 percent of my clients are men," she says when asked, "I have a lot of developers as clients, and the proportion of women in the industry is very low." More important than gender, however, is another commonality: since March 2022, Germany's first female tax consultant, who financed her tax consultant exam with Bitcoin, has been "exclusively advising clients who have generated some form of income in connection with cryptocurrencies." It was clear to Stöhr that she wanted to do this when she discovered crypto for herself in 2017. "The special thing about specializing in crypto is that there are always completely new circumstances that have to be qualified for tax purposes. There's hardly anything to orientate on. You have to go new ways, come up with your own ideas," she explains the reasons why some colleagues have not yet dealt with the taxation of cryptocurrencies. In order to find like-minded people, Stöhr has set up a "tax consultants regulars' table on crypto".
Connecting networks and meetups
She learned the power of networks, meetups and conferences in groups like the CryptoGirls Club. "Until then, I had the feeling that we were somehow stuck in a dead end in Germany and that as an individual you couldn't change anything about the whole structures anyway. These people changed the feeling. Suddenly I got the feeling that you can change so much," she says enthusiastically about the openness of the Berlin scene. "Technology is developing rapidly, a network helps to stay up-to-date here. Also, I'm in the group because I would like to give something back. I'm super happy that I specialize in crypto and have found my niche here. If I can supporting one or two others in finding their niche, then I'd be happy to do so." In addition to the Crypto Girls Club, there are other numerous networks for women in the blockchain and crypto scene; these include for example FinTech Ladies and Women in Tech e.V.
Blockchain & Crypto: The future of finance
Sylvie Durach from hopa confirms how important the "safe space" is for the exchange with female founders interested in crypto: "We are active in some networks for female founders, for example we pitched at the Female Founders Conference in Vienna in June 2022," she is happy to have made initial contacts with investors there. "Apart from that, I network a lot with other female founders and really value the exchange." While she raves about the diverse startup scene as well as the regular meetups such as events in Berlin, she still sees "a lot of room for improvement" when it comes to bureaucracy. "Applying for a tax number sometimes takes 42 days, funding applications require several weeks of preparation and the waiting time until funding is paid out is also weeks to months," the Berliner-by-choice hopes for improvements, "not to mention the bureaucracy involved in starting a company in Germany."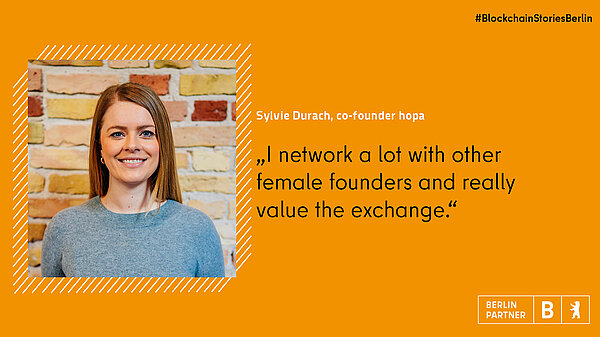 Bridge between euro and crypto
She has successfully overcome these hurdles at hopa. Together with her two (male) co-founders, Durach, who has made a career in banking, management consulting and FinTech, wants to "build a bridge between euros and crypto." "Companies and platforms that employ freelancers have the opportunity to pay them in cryptocurrencies without the companies having to hold them themselves. A company makes a bank transfer in euros and we then take care of cryptocurrencies arriving at the freelancers. For this, we charge a B2B SaaS & transaction fee," she describes the product. "Payment in cryptocurrencies is especially interesting for freelancers who live outside of Europe. Often, traditional cross-border transfers involve very high transaction costs (up to 20 percent) and it takes a few days for the transfer to arrive then."
In her professional career, she has seen that cryptocurrencies are a significantly faster, cheaper alternative. In addition, thanks to US-Dollar Stablecoin, they are now stable: "These cryptocurrencies are linked to the US dollar and a US dollar reserve is held for each US-Dollar Stablecoin. This is why the volatility of US dollar stablecoins is very low and they are ideal for international transactions in the B2B sector," says the expert, describing blockchain and crypto as "the future of finance."
Women of the Future
To ensure that women also have something to say in this future, we need "more female role models in the media who set an example for other women," emphasizes Regine Haschka-Helmer. With her SeedLab, the experienced manager helps large companies develop digital business models and collaborate with startups. With Elon Musk or Steve Jobs, there would be many more men acting as role models. "However, I also see a change: more and more women's networks are emerging that have made it their mission to connect women in technology and support each other," observes the expert, who was one of the youngest women to sit on the board of one of the largest listed digital agencies in Europe. "This is a very positive trend." Moreover, if female students were already involved in these networks, mentors could support the younger ones and pass on their experience. "Because the more role models there are, the more courage and inspiration women get to dare to do something different," says Haschka-Helmer, who is currently founding SPYCE5, a new company in the blockchain environment.