NFTs (Non-Fungible Tokens) provide a breath of fresh air to the art scenes and creative sectors such as the gaming, music or fashion industries. Numerous start-up businesses are working on innovative projects in Berlin. NFTs are also becoming increasingly significant in local art galleries.
NFTs have been one of the hottest topics around for some time now when it comes to potential applications for blockchain technology. This hardly comes as a surprise because NFTs enable innovative business models in a wide variety of application domains. NFT marketplaces such as OpenSea or Rarible are sprouting up like mushrooms and recording exceptional levels of turnover. Pretty much everything that can be applied to an NFT format is being traded there: art, gaming items, video clips, virtual properties. The trend is also being handled intensively within the German blockchain stronghold of Berlin forming part of numerous projects.
It soon becomes apparent that NFTs have primarily developed their revolutionary potential within creative industries up until now. Whereas fashion labels such as Gucci or Hermès are now marketing their high-value products as NFTs, and are increasingly experimenting with digital fashion throughout Fashion Week, both artists and musicians from NFTs are above all hoping for a higher share of profits when selling their work.
A digital marketplace for both art and music
It is not only in the creative industries where NFTs are increasingly becoming the focal point of innovative concepts. The Berlin trading platform license.rocks, which has received various foundation and innovation awards, is dedicated to the field of software licence management and it is aiming to revolutionise the licensing of digital products with the aid of so-called licence tokens.
It was against the background of this success that the concept for Collective.Berlin was developed. Those behind license.rocks are currently working on an NFT marketplace where "strictly limited musical tours de force" will be available as NFTs under the motto of "be part of digital art". This is intended to strengthen the copyrights owned by both artists and musicians, but above all is intended to provide support for Berlin's creative scene. Collective.Berlin will also be offering a decentralised information platform in the future that will provide information regarding NFTs and blockchains as a collective source in the interests of potential buyers and sellers. An initial soft launch has been scheduled for the beginning of October.
Plenty of impulse from Berlin
Other Berlin start-up businesses are also pursuing ambitious plans with their NFT projects: Fanzone was founded this year as a spin-off of Porsche Digital. The most recent member of the Berlin Blockchain community BerChain was able be acquire the German Football Association (DFB) for the European Championships as a cooperation partner and allows people to buy, collect and swap digital football photos in NFT format. The concept has a striking resemblance to NBA Top Shot from Dapper Labs, one of the NFT marketplaces, which currently has the highest level of turnover. Now it remains to be seen whether Kimmich, Kroos & Co. will soon be swapping NFT owners for six-figure sums.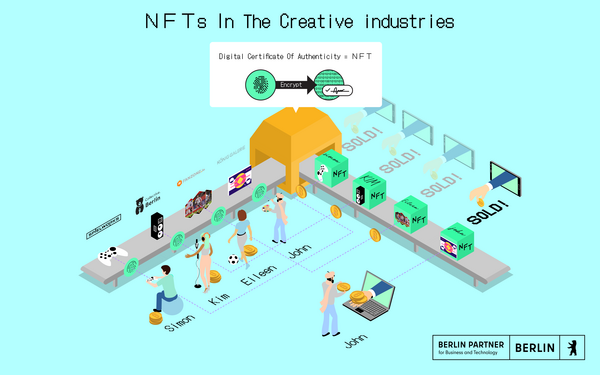 More independence for artists
NFTs are seen as a promising marketing model within the art scene for various reasons. The major benefit for the artists: they have the marketing and sale of their work in their own hands and are less dependent on mediation efforts made by art traders or by auction houses. This can contribute towards a significant improvement in their financial situation.
People have been noticing for some time that digital NFT works of art keep changing hands for impressive sums of money. This is how the Everydays: work program became a success. The First 5000 Days by Mike Winkelmann, aka Beeple, earned a mind-blowing $69 million at the British auction house Christie's in March of last year.
The use of NFTs in the art scene has however been around in German speaking countries for some time. One of the first pure NFT exhibitions took place at the Bark Berlin Gallery in Germany in March and April of this year, where digital works of art were exhibited exclusively. It was there that the painter Charlie Stein offered and sold two of her pieces of work.
"What is revolutionary about NFTs for artists is the potential for bypassing classic intermediaries such as galleries or dealers", says Charlie Stein.

"A percentage is also paid back to the copyright holder for each resale. This varies from the standard auction models adopted by long-established institutions."
NFTs as a way of escaping the precarity
Berlin based Stephan van Kuyk is also supporting other artists with his Artist Stop Being Poor platform which also assists them in benefiting more from their work with the aid of NFTs. He also sees NFTs as an opportunity for artists to take the marketing of their works into their own hands:
"I think the greatest strength of NFT technology is the freedom it gives artists to define their careers," says van Kuyk.

"NFTs allow artists to build their own audiences without any assistance from the outside world. They are now able to sell NFTs directly to their audience and continue to benefit from trading their work on the secondary market. You could not believe this would be possible up until fairly recently. These developments will fundamentally change the art scene in the actual artists' favour."
It is therefore no coincidence that NFTs have been able to find fertile ground up until now in spite of their numerous potential applications, especially within the art industry. NFTs do however also offer interesting perspectives for collaboration work between artists and galleries.
Exciting synergies for the art scene
Charlie Stein, says: "A partnership-based approach is coming to the forefront, certainly with the new generation, and this has identified the changes people are witnessing. I worked with my galleries at Bark Berlin Gallery and at Gallery Priska Pasquer where my NFTs were concerned. This provides a potential model and then makes sense if you wish to use synergies."
Meanwhile, NFTs have penetrated into the mainstream sector up until now and to a level whereby it is becoming increasingly difficult to keep track of them. Charlie Stein sees the major hype slowly dying down in view of the excess supply.
"There were briefly more potential buyers than NFTs being offered at the outset, which hyped up the situation. It has since then been suffocated by a flood of NFT art from hobbyists and celebrities. There is nevertheless some exciting and intelligent NFT work that critically reflects on itself, such as works from Simon Denny or Rachel Rossin."
Crypto gaming for the rank and file
NFTs are also a big future subject in the flourishing gaming sector as well as in classic art circles. There are now countless NFT-based projects that are often still in their primitive stages of development. Above all, the high transaction costs in the Ethereum network, on which almost all NFT projects have been based up until now, and the relatively complicated handling of crypto exchanges and wallets are providing an obstacle to the mainstream market. Optimising the user experience therefore plays a key role for developers.
This is precisely the objective of Spielworks: The Berlin-based start-up business is working on making blockchain gaming more user-friendly with its Wombat and Womplay solutions and therefore guarantees it will be accepted more widely on the gaming market.
In addition to Spielworks, other Berlin start-up businesses have also dedicated themselves to the NFT phenomenon. Tachelez recently released the Noodle Fighter Titans game, in which you can acquire heroes and heroines in NFT format and allow them to fight one another on a type of principle which is akin to Pokémon.
Attending a concert via NFT ticket
NFTs also reveal disruptive potential within the gaming industry, from which both organisers and visitors may benefit in a number of ways. This is primarily due to the basic NFT properties. They are forgery-proof, they cannot be lost and providers may, for instance, define any rules for reselling. NFT tickets could also become more significant as collectible items and therefore offer monetisation potential which far exceeds an individual sale.